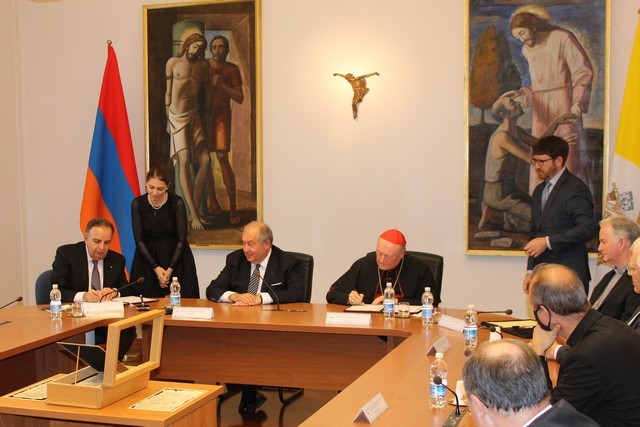 Visit of the President of Armenia
Mr. Armen Sarkissian
to the Pontifical Council for Culture
11 October 2021, 5 pm
The President of the Republic of Armenia visited the Dicastery to oversee the signing of a Memorandum of Understanding between the Dicastery and the Ministry of Education, Science, Culture and Sport of the Republic of Armenia, signed by Ambassador Nazarian.
Following a short private meeting with Cardinal Gianfranco Ravasi, the delegations met in the conference room where they were able to admire the artistic collection of images of Cross Stones, a cultural feature particularly present in the region.
During his speech of welcome, Cardinal Ravasi recalled his many close relations with Armenia: his two visits which saw him meeting with the Catholicos of All Armenians Karekin II and receiving an honorary doctorate from the University of Yerevan, where he gave a prolusion on the figure of the martyr-poet Daniel Varujan, killed in Turkey in 1915; his theological studies in the company of Boghos Zekiyan, now Archbishop of Istanbul of the Armenians; his readings of the theology of 5th century "translator" saint Mesrop; his familiarity with the Armenian communities in Venice (San Lazzaro) and in Milan, and its parish priest, who is also called Sarkissian; the recent publication by one of his students of a new translation of the verses of Nerses Šnorhali, the 12th century poet; the contemporary writings of Antonia Arslan.
In his reply, the President recalled with great pleasure his relations with the Holy See, having been his country's first Ambassador. He announced plans to celebrate 30 years of diplomatic relations when he will be keen to recall 2000 years of history uniting peoples. He also introduced his delegation, which consisted of H.E. Mr. Garen Nazarian, Ambassador; Mr. Emil Tarasyan, Chief of the Presidential Administration; Ambassador Ruben Karapetyan, Presidential Advisor; Mrs. Hasmik Petrosyan, Presidential Advisor; Mrs. Zoya Barseghyan, Head of Public Relations; Mrs. Victoria Poghosyan, Embassy Attaché.
The Memorandum of Understanding was then signed, and an exchange of gifts ensued.