The Public Sessions of the Pontifical Academies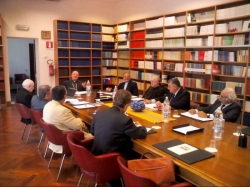 The Council of Coordination
The Pontifical Academies meet in Public Session each year to reflect on a theme in an afternoon organised by one of the academies.
The gathered academics also witness the prize-giving which sees the Cardinal Secretary of State encourage young scholars working in the sphere of the promotion of Christian humanism. Musical interventions also feature.
The events are held in Italian, so do see this page for further details.