A Crown for Australia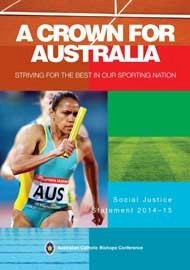 The main theme for the Social Justice Statement of the Australian Catholic Bishops Conference in 2014 has been dedicated to the analysis of the vital role sports play in everyday life of the Australians. Praising the gift sport represents, both for single individuals and society as whole, and the challenges posed by its darker side, its relevance as a means for spiritual growth is the focus of "A Crown for Australia: Striving for the best in our sporting nation".
His Most Reverend Excellency Christopher Saunders, Archbishop of Broome, introduces the document with the explanation of its title, which was inspired by the words of St. Paul in his First Letter to the Corinthians:
"The 'crown' of the title recalls Saint Paul, in his first letter to the Corinthians, writing of an athlete's rigorous training in order to win a wreath that will wither'(1COR 9:24-27). In the words of the Statement, the athlete's reward is 'a forerunner of the imperishable crown that we are striving for in our spiritual lives'."
Published the 17 September 2014, the document collects the Australian Bishops' considerations on the importance of sport activity as a binding agent for local communities. Moreover, it analyzes how sports positively influence not only the physical growth of people but also the spiritual growth, especially among the youth, teaching good values and morals which lead to a path of personal enlightment and education.