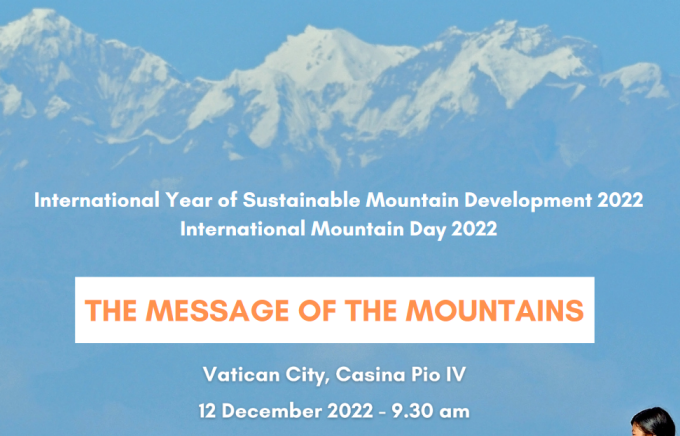 International Mountain Day
12 December 2022
Texts:
Card. José Tolentino de Mendonça (text in Italian)
Dr QU Dongyu, Director General of the FAO (notes in English)
Mons. Fernando Chica, Permanent Observor of the Holy See to the FAO (text in Italian)
Summary:
This conference on mountains is anchored in the words of Pope Francis' letter Laudato Sì. It was hosted by the Dicastery for Culture and Education of the Holy See and the Mountain Partnership – the United Nations alliance dedicated to the development of mountain areas – in collaboration with Giovane Montagna, the Italian Alpine Club and Guide Don Bosco 6000 - Peru, as a contribution to the International Year of Sustainable Mountain Development 2022 and International Mountain Day.
The United Nations General Assembly established International Mountain Day was in 2003. It is celebrated every year on 11 December to underline the importance of mountains to life.
In 2022, the theme of the Day was "Women Move Mountains" in recognition of the crucial role women play in the preservation of traditions and knowledge, and the conservation of natural resources and biodiversity in all mountain ecosystems of the world.
The conference featured a variety of mountain actors, including mountaineers, scientists, sustainable development experts, tourism operators, volunteers, and sports enthusiasts. It offered a moment of shared reflection to highlight the invisible thread that spurs everyone to admire the panorama of a summit, which can be reached along the many possible paths that have the principles of sharing, dialogue, solidarity and care.