Courtyard of the Gentiles of the Journalists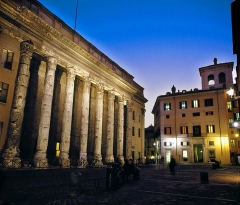 Hadrian's Temple
On 25 September 2013 a special meeting of the Courtyard of the Gentiles took place in the marvellous setting of Hadrian's Temple, Piazza di Pietra, Rome.
This Courtyard brought together for discussion important people from the world of Italian journalism with the aim of establishing a dialogue between information protagonists, believers and non-believers on major themes such as "Ethics of society and ethics of communication", "Liberty and responsibility in information. Objectivity and truth" and "Journalism, culture and faith. Believing and communicating".
The heart of the event was the dialogue between the founder of the newspaper REPUBBLICA, Eugenio Scalfari and Cardinal Gianfranco Ravasi.
Two discussions followed with the participation of Ferruccio de Bortoli, Ezio Mauro, Marcello Sorgi, Roberto Napoletano, Mario Calabresi and other journalists.
Photographs of the day are available on our flickr pages