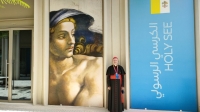 Mons. Trafny during the construction
The Holy See Pavilion at EXPO Dubai
"Connecting Minds, Creating the Future" is the general theme of the next Universal Exhibition, Oct 1, 2021 – Mar 31, 2022.
It is the first time the World Fair will be held in the Middle East and Africa, and some 25 million visitors are expected to attend. At the request of Pope Francis, this Dicastery is leading the preparations for the Holy See's pavilion, which addresses issues of intercultural dialogue, human mobility and ecological sustainability.
More details to follow...