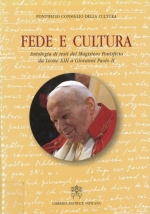 The Anthology
The panel on the right gives all the main talks, messages, texts and letters of Popes to the Council. If you wish to find other papal texts on culture, you are advised to follow digital natives in searching www.vatican.va referencing the various themes of culture that interest you.
We are also happy to present here the Italian Anthology of Papal texts on Culture from the times of Leo XIII through to John Paul II.
As the original print document numbered 1580 pages, don't forget to use CTRL + F to search for a Pope or a certain paragraph. Particularly useful is the thematic index given at the end of this immense variety of texts.