Emerging Youth Cultures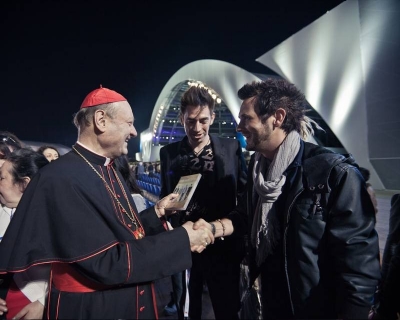 The Cardinal with a Rock Group
This Plenary Assembly looked at "youth issues" in the different continents. It listened to this evolving and changing reality, ensuring that pastoral care addresses questions that are actually real and relevant to today's youths.
The Assembly analyzed adolescent and youth cultures, covering the ages of 15 to 29 years. For youths within this range, the world is marked by complexity, fragmented into different types, and lacking a single or homogeneous model. Its variety depends on the influences of family and economic factors, on social environment, formative capital and hyper-stimulation, and the enormous communicative possibilities of emerging visual cultures. Listening to the new generations and considering their situation is a valuable opportunity that is essential for adults and Christian communities.
The Plenary on Emerging Youth Cultures took place 6-9 February 2013. Access was limited to the members and consultors of the Pontifical Council. There was, however, a public opening event on the evening of 6 February. Details were announced at a press conference on 31 January 2013.