New Ancient Texts on Sport
On 13 June 2012 the Vatican's Newspaper the Osservatore Romano announced the discovery by Marina Molin Pradel, in the Bayerische Staatsbibliothek in Monaco, of a codex containing 29 undiscovered homilies of Origen, the great Alexandrian writer and exegete who lived in the Third Century. Here are some of the ancient words:
The Diet of the Athlete
He gave them bread from heaven, the men ate the bread of the angels» (Ps 77, 24).
But you who compete do you not wish to support the strokes inflicted by God upon you wishing to make you an athlete? Do you not desire to follow the diet of the athlete, yet often you pass a whole day without your soul receiving its own nourishment. Did I say "just one day?" I should say two, three, four and more. Often six or seven days pass without your taking nourishment. If only you could go to the house of the Lord to receive spiritual nourishment and be exhorted to salvation, not every seven days, but rather all the days of the Lord!
We have reached the stage where some people are so carelss they remain without nourishment for the entire year and come only on those feast days of Easter.
Do you think they can compete, do you think they can fight against the evil spirits if they ignore their nourishment? They will have no force, if they do note eat the food that gives them force.
(Source: Origen, From the fourth homily on Psalm 77)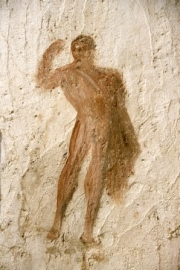 Athlete, Catacombs of St Marcellinus and Peter, Rome