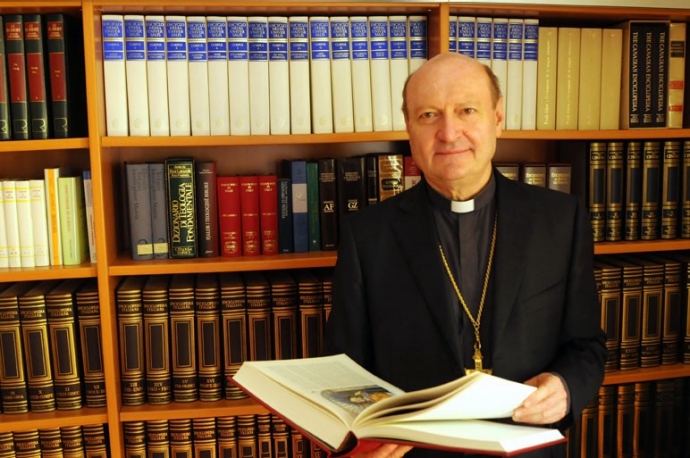 Cardinal, President of the Pontifical Council for Culture and of the Pontifical Commission of Sacred Archaeology.
Born in 1942 at Merate (Lecco, Italy), he is an expert on the bible and biblical languages, and before coming to Rome he was Prefect of the Biblioteca-Pinacoteca Ambrosiana in Milan and taught Old Testament Exegesis at the Theological Faculty of Northern Italy.
He has some 150 volumes published mainly on biblical topics: editions on the Psalms and the Book of Job, the Song of Songs and Ecclesiasticus. He has also earned popular fame for his writings Breve storia dell'anima (Mondadori, 2003), Le sorgenti di Dio (San Paolo, 2005), Ritorno alle virtù (Mondadori, 2005), Le porte del peccato (Mondadori, 2007), 500 curiosità della fede (Mondadori, 2009), Questioni di fede (Mondadori 2010) and Le Parole del mattino (Mondadori 2011). A full bibliography of his writings in Italian is given here.

Cardinal Ravasi collaborates with newspapers - for fifteen years he wrote for the daily paper Avvenire and currently writes for L'Osservatore Romano and Il Sole 24 Ore - and has his own television activity with the Sunday programme Le frontiere dello Spirito on the Italian mainstream Canale 5.
In 2007 the University of Urbino gave him the Laurea h. c. in Anthropology and Epistemology of Religions. And in 2010 he was enrolled as an honorary member of the Accademia delle Belle Arti di Brera and given at the same time the Honoris Causa of the Diploma di Secondo Livello in Comunicazione e Didattica dell'Arte.