A Golden Chapter in intercultural relations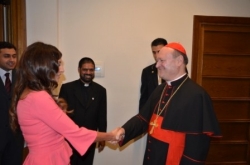 Restoration of Christian Catacombs sponsored by a Muslim Foundation: A Golden Chapter in intercultural relations
22 June, 2012 will be written in golden letters in the annals of the relationship between the Republic of Azerbaijan and the Holy See. As the clock struck 17.50, Cardinal Gianfranco Ravasi, President of the Pontifical Commission for Sacred Archaeology and Dr. Mehriban Aliyeva, President of the Heydar Aliyev Foundation and First Lady of the Republic of Azerbaijan signed an agreement of far-reaching significance. According to the Agreement, the Heydar Aliyev Foundation has accepted to contribute financially to the plan for opening the Saints Marcellinus and Peter catacombs to the public. The proposal entails the restoration of ten areas, decorated with frescos, in the Marcellinus and Peter catacombs.
The elaborate and solemn ceremony was preceded by a meeting of the two Presidents during which they committed to a further and closer collaboration between the two institutions. The ceremony itself began with greetings from Msgr. Giovanni Carrù, Secretary of the Pontifical Commission for Sacred Archaeology of the Holy See who thanked the President of the Heydar Aliyev Foundation for her generosity and goodwill. Prof. Fabrizio Bisconti, Superintendent, Pontifical Commission for Sacred Archaeology of the Holy See described in brief the beauty and charm of these still unexplored Catacombs. Cardinal Ravasi in his address extolled the First Lady and the Foundation for promoting a cultural dialogue through the support for cultural heritage. The gesture of a foundation from a majority Muslim country to finance the restoration of Christian catacombs according to him is an exemplary and symbolic endeavour which shows how beauty can indeed be a bridge for dialogue between cultures. Dr. Aliyeva in her intervention expressed her happiness at the way the dialogue between her country and the Dicasteries headed by Cardinal Ravasi has been progressively promoted over the years.
Fr. Theodore Mascarenhas SFX, Head of the Departments for Cultures in Asia, Africa and Oceania at the Pontifical Council for Culture moderated the Ceremony. His Excellency Ambassador Elchin Amirbayov, the Ambassador of the Republic of Azerbaijan to the Holy See and who was instrumental in carrying on the negotiations that concluded with the signing of the Agreement was present on the occasion.