Faith, Culture and the Common Good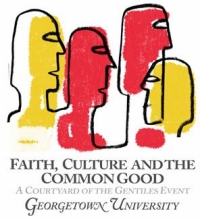 From April 9-11 2014, the Courtyard of the Gentiles is in the United States of America for an event hosted by Georgetown, this Pontifical Council for Culture and the Archdiocese of Washington. The three-day conference explores how people of different faith traditions, as well as those who claim no religious faith, can work together to enrich civic life in America.
Georgetown University and the Archdiocese of Washington are the key sponsors of the conference. As always, the themes, organisers, dialogue partners and communications are organised locally. For those who wish to closely follow this occasion, further information is available by consulting the University's website, and the Berkley Center's partnernship initiative as well as for the engagement with hip-hop culture at the Kennedy Center.
Interventions by Cardinal Gianfranco Ravasi are normally made available via these partner sites and/or his pages of articles on this site (in Italian).