Dante's Faith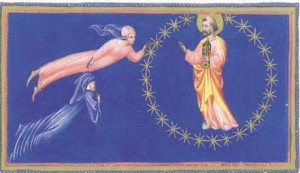 The Pontifical Council for Culture held on Friday 12 October at 9pm in the Church of the Most Holy Name of Jesus, Piazza del Gesù, Rome, an evening dedicated to Dante's Faith - Canto XXIV of Paradise with the Patronage of Roma Capitale and in collaboration with the Rettoria del SS. Nome di Gesù all'Argentina and the Casa di Dante in Roma.
The event is organised as part of the celebrations of the Year of Faith and for the Synod of Bishops. The chosen theme will ensure that the evening will be fully part of the Year of Faith, as it portrays the vital link that ties Dante Alighieri and his work with the Christian Faith.
This evening is the first event organised by the scientific committee set up by the Dicastery to prepare a series of moments and initiatives preparing for the Seventh Centenary of the death of the Sommo Poeta, in 2021.
During the evening, Gabriele Lavia, Actor and Director of the Teatro di Roma read the Canto XXIV of Paradise where Dante professes his Credo.
Comments on the canto were made by Cardinal Gianfranco Ravasi, President of the Pontifical Council for Culture and Prof. Luca Azzetta, from the Università Cattolica di Milano. Some short musical interventions were performed by Stevie Wishart and her group, Sinfonye.
For further material in Italian, please click here.