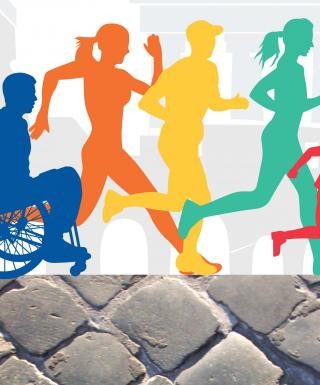 Rome Half Marathon VIA PACIS - Rome, 17 September 2017
For Peace and Interreligious Dialogue
Peace, integration, inclusion, solidarity: these are the guiding principles that inspired the "Rome Half Marathon VIA PACIS."
The first edition took place on Sunday 17 September, with the start in Piazza San Pietro at 9am. Anyone could take part and join in spreading the message: "No to violence, No to racism, No to discrimination."
Along the roads of the Italian capital, many have run: women, men, families, the young, the elderly, children, refugees, athletes, people with disabilities, everyone carried a message of peace.

Taking inspiration from the pilgrimage of the seven churches, the "via pacis" created an ideal connection between Rome's emblematic places of worship.
Among the different places on the route were those of different religions: St. Peter's, the Synagogue, the Mosque, Protestant and Orthodox churches. There were two different races: a competitive half mile (21.097 km) and a 5 km non-competitive run.
The event was promoted by Roma Capitale and the Pontifical Council for Culture, in collaboration with FIDAL - Federazione Italiana di Atletica Leggera - and with the patronage of CONI and the Italian paralympic committee.
To participate and for further info, please visit www.romahalfmarathon.org