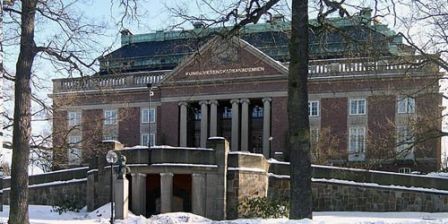 New stage of the Courtyard of the Gentiles meeting in the Swedish Capital Stockholm, 13-14 September 2012.
See the website for all the details
For further info see also
Hedningarnas förgård till Stockholm
See also the preparatory article prepared by Cardinal Gianfranco Ravasi Nella Terra degli Atei (in Italian) a summary of which appears in English in John Allen's blog.
And for a Vatican Radio piece by journalist Veronica Scarisbrick click here.
After the event we are also able to bring you to Vatican Radio interviews, one with the Swedish Ambassador to the Holy See, Ulla Gudmunsson and a second with Jesuit Father Ulf Jonsson, SJ.
Aims and Objectives
The ideas in this Courtyard are provocative current issues looking at the questions of the development between Science and Faith. Scientific developments bring the Church and human ethics new challenges, often dangerous and controversial. This Courtyard will ask contemporary humanists: can you choose a world without God? How far can man go in the field of creation? Are there limits? What are they?
These are questions that believers and humanists alike are called to answer with hope for the sake of our often broken-down society. The Coutyard seeks then to be a hope in the darkness of indifference and ignorance that shows a path of dialogue towards a better understanding of humanity.
The Courtyard meets in two symbolic places in Stockholm: The Royal Swedish Academy of Sciences, where the world of the arts and sciences meets each year to give the Nobel prizes; and the Fryshuset, a place created to welcome and help young people in trouble. The two sides of Sweden, both full of hope for the future, are symbols that are open to the world, welcoming the Courtyard of the Gentiles, creatinganother important occasion of dialogue on those questions that contemporary society poses to all, but which are often unseen and unheard.
Programme:
"The World With or Without God"

Place: Royal Swedish Academy of Sciences
Opening address:
His Eminence Cardinal Gianfranco Ravasi, President of the Pontifical Council for Culture
Georg Klein, professor and author
Duets:
What does believing and non-believing mean?
Ulf Danielsson, professor of theoretical physics at Uppsala University
Ingemar Ernberg, professor of tumour biology, author of the book "Vad är liv?"(What is life?)
Does a non material world exist?
Antje Jackelén, Bishop, Church of Sweden, Diocese of Lund
PC Jersild, author

What is man?
Ylva Eggehorn, writer

Åsa Wikforss, professor of theoretical philosophy, Stockholm University
Friday 14 September 2012

Time: 13.30–16.30 (prel)

Place: Fryshuset, Mårtensdalsgatan 2-8
Opening address:
His Eminence Cardinal Gianfranco Ravasi, President of the Pontifical Council for Culture
Thomas Hammarberg, former Council of Europe Commissioner for Human Rights
Duets:

What does it mean to believe and not believe?
Anders Carlberg, author and founder of Fryshuset
Linnea Jacobsson, Deputy Chair of Ung Kristen Vänster

They complain that religions impose their beliefs on non-believers. But does not secular society do the same?

Jessica Schedvin, Chair of the Swedish Humanist Youth Organisation
Christer Sturmark, Chairman of the Swedish Humanist Association

Does religion make the world a better place or worse?
Per Wirtén, author
Fazeela Zaib, agent of peace/blogger