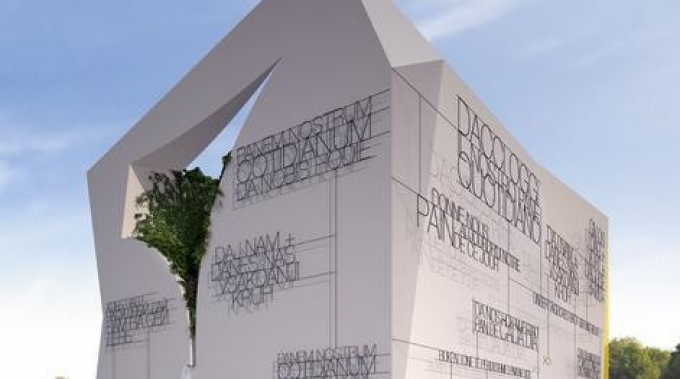 A view of the Pavilion
The Participation of the Holy See at the Milan Expo in 2015
The theme of the Universal Exhibition which took place in Milan in 2015 was Feeding the Planet. Energy for Life.
The Holy See participated with its own pavilion on the theme Not by bread alone.
Artistic and cultural elements were gathered and developed into an exhibition under the guidance of Cardinal Gianfranco Ravasi with a number of partners.
There were four areas in the pavilion:
1. A Garden to Safeguard: looking after creation, with all its resources that must not be wasted, being a gift of the Creator to all humanity.
2. A Food to Share: the biblical passage recounting the multiplication of bread is the guiding image for this area, underlining the universal value of sharing and solidarity, and is presented by many institutions whose very existence is a living out of this commandment of love of neighbours.
3. An Educating Meal: education is a fundamental area of formation of future generations in a culture of relating centred on the essential and not on consumerist waste (of things or of people).
4. Bread that makes God Present: the typically religious and Christian dimension can be found in the Eucharist, in the table of the Word and of the Bread of life, "source and summit" of all Christian life.
For further information see the dedicated website here (in Italian)