RENEWING THE CHURCH IN a SECULAR AGE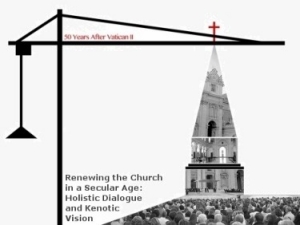 4-5 March 2015, an international conference Renewing the Church in a Secular Age organized by the Council for Research in Values and Philosophy (RVP) and the Pontifical Gregorian University, takes place under the high patronage of the Pontifical Council for Culture.
Along with His Eminence Card. Gianfranco Ravasi, scholars such as Charles Taylor (McGill University, Canada), José Casanova (Georgetown University, USA), Hans Joas (Humboldt-Universität zu Berlin, Germany), Tomáš Halík (Charles University, Czech Republic), William Desmond (K.U.Leuven), Adela Cortina (University of Valencia, Spain) and various Professors from the Pontifical Gregorian University, Italy) participate.
This gathering is the result of a project that began in 2009 in a public conversation between Cardinal Francis George (Chicago) and Professor Charles Taylor, one of the greatest thinkers of our time and renown author of the study A Secular Age. It will also be the launchpad for similar initiatives that will investigate the impact of secularization in Asia, Africa, and Latin America, in search of their special contribution to the universal Church as a communion of dialogue.
Here is the programme and for further details visit the following pages: Pontifical Gregorian University