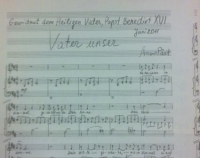 A new composition, "Vater Unser" by Arvo Part
The Pontifical Council for Culture promotes a pastoral approach to musical culture with its vast variety of articulations and ramifications, aware that music expresses the diverse nature of every culture, raises ideals of beauty and is an element of the glorification of God.
At the heart of the Department for Music there is attention given to the relation between cult and culture, music and liturgical rite, and the development of the immense patrimony of sacred music, both instrumental and vocal, in its diverse forms throughout the world. At the same time, given the deep interest in music generally, especially among the youth, and given its opportunities as a formative and educational arena, the Department also works in the field of contemporary musical culture.
The Department:
1. Promotes an interpretative pedagogy aimed at understanding the evolution of different eras and distinct place, observing the natural context of the origins of compositions;
2. Encourages awareness and study of ancient music and the high quality performance thereof, together with research into the archives for unpublished scores;
3. Fosters the use of sacred music (particularly Gregorian and Polyphony) in the liturgy, in non-liturgical spiritual celebrations and concerts;
4. Accompagnies and promotes the new period of musical creativity, in different languages and in Latin, by participating in competitons and other initiatives that are marked by high quality;
5. Collaborates with other Vatican institutions.