Sacred Music Composition Prize Competition - "Francesco Siciliani"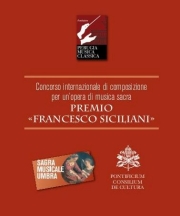 The International Competition for the "Francesco Siciliani" Prize for a composition of sacred music is promoted jointly by the Fondazione Perugia Musica Classica Onlus, the Sagra Musicale Umbra Festival and the Pontifical Council for Culture.
The Competition has as its object a composition on a set text for unaccompanied choir, or for choir with organ accompaniment, for a duration between five (5) and fifteen (15) minutes.
The Competition is open to candidates of any nationality, without any age limit.
The Third Edition 2016
For this edition the candidates were invited to set the text of the Kyrie. All three finalists won prizes: Jury prize ex equo: Julian Darius Revie (Canadian-Lithuanian) and Carlo Alessandro Landini (Milan); Critics prize: Steven Heelein (Germany); Public prize: Julian Darius Revie.
The international Jury, chaired by Helmuth Rilling, included composer Arvo Pärt; Gary Graden, Music Director of Stockholm Cathedral and the St Jacob's Chamber Choir; Piero Caraba, Director of the Conservatorio "Francesco Morlacchi" in Perugia and Artistic Director of the Fondazione "Guido d'Arezzo"; Alberto Batisti, Artistic Director of the Fondazione Perugia Musica Classica Onlus – Sagra Musicale Umbra. Artistic secretary is the composer and music critic Marcello Filotei.
The final concert took place on 16 September 2016 as part of the 71st Sagra Musicale Umbra with the St Jacob's Chamber Choir of Stockholm, conducted by Gary Graden performing the three works.
Cardinal Gianfranco Ravasi, promoter and supporter of the Competition, was present at the final concert to award the Prize to the Competition winner.
You can read the regulations and instructions in Italian and English here.

The Second Edition 2014
"Our Father" was the theme of the 2014 edition. The three finalists chosen from the 146 candidates were Leonardo Schiavo, Andrea Venturini and Federico Zattera and the performance by the St. Jacob's Chamber Choir of Stockholm directed by Gary Graden took place on Saturday 13 September 2014 at the Basilica Superiore di San Francesco ad Assisi. The Italian composer Venturini was declared the winner by the jury which included Ennio Morricone and Mons. Vincenzo De Gregorio, Rector of the Pontifical Institue of Sacred Music.
Cardinal Gianfranco Ravasi earlier explained the choice of the text for the 2014 edition during a Press Conference held 16 December 2013, stating that this "perfect prayer" is a "hand from heaven".
The First Edition 2012
At the Press Conference launching the first initiative (2012 edition) Cardinal Ravasi explained: "The Competition for a sacred music composition wishes to foster the dialogue between contemporary music, which has its own new grammarand the sacred, which too has its canons, texts and themes, to result in a new synergy". This explains the choice of the text for that competition in the Apostole's Creed, one of the key texts of the Christian tradition. The Competition and the works produced were a significant feature enriching the initiatives during the Year of Faith.
Below you can hear one of the finalists from 2014.