Sacred Music Composition Prize Competition - "Francesco Siciliani"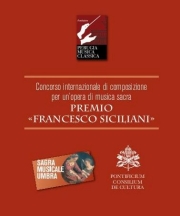 The International Competition for the "Francesco Siciliani" Prize for a composition of sacred music is promoted jointly by the Fondazione Perugia Musica Classica Onlus, the Sagra Musicale Umbra Festival and the Pontifical Council for Culture.
The Competition has as its object a composition on a set text for unaccompanied choir, or for choir with organ accompaniment, for a duration between five (5) and fifteen (15) minutes.
The Competition is open to candidates of any nationality, without any age limit.
For more details, see here
Below you can hear one of the finalists from 2014.