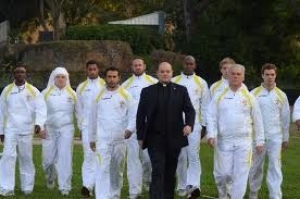 Publicity for the film "100 metri dal Paradiso"
On Sunday 20 October 2013, a Festive day with sport in St Peter's Square to recover the educational, cultural and spiritual values of sport
Aim of the event
"Sport needs healing from its degenerations, so that it becomes again a meaningful cultural phenomenon and reference point for the youth, making the most of the creative spirit of the human person" says Cardinal Ravasi.
So on Sunday 20 October 2013, there will be a Festive day with sport in St Peter's Square, a highly symbolic event to show how sporting experience can become a reading and a response, human and of faith, leading to those deep questions which the new generations are asking about the meaning of life, its direction and aim (cf. John Paul II, To the Italian world of sports, 26 - 6 - 2004).
The event includes
A Race in which around 5000 people, beginning at 8.30am will be able to run the length of a 100m track, beginning in via della Conciliazione and arriving in St Peter's Square.
Prayer of the Angelus at noon with the Holy Father.

Witness from a variety of personalities from the world of sport.