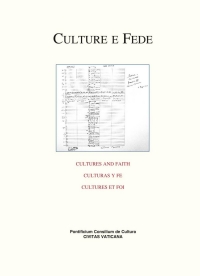 Culture e Fede Vol. XXVII N.1 Music and Belief
Volume N. 1 XXVII 2019 of the review of the Dicastery focuses on musical matters.
It includes analysis of religion in pop music, reflections on prayer and psalmody, an architect's vision of the physical place of music in church, thoughts on music and eternity, music in the liturgy and as culture, and much more.
See the index and note the original languages.
You can read the editorial here.

Other sections of the review present the activities of the Courtyard of the Gentiles, the Department for Sport and other cultural activities.