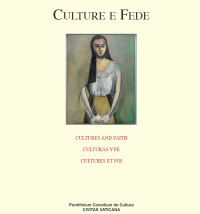 Culture e Fede Vol. XXIII 2015 N.2 Theme: Women's Cultures
Vol. XXIII 2015 N.2 of the Dicastery's journal has its focus on women's cultures.
The 2015 Plenary Assembly was dedicated to the theme of Women's Cultures: Equality and Difference. Gathering the fruits of that meeting, this is a snapshot of the ongoing reflections as we take up Pope Francis' invitation to discern how to engage with the real gifts women bring to cultures and to the Church.
Four days of listening and hearing by the Dicastery with help from a group of women are captured here with some of the inputs and some subsequent reflections. There are many different points of view and diverse voices, treasures from the past, critiques of roles in the present, and expressions of hope for the future.