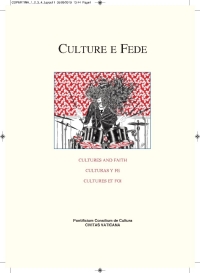 Culture e Fede Vol. XXVII N.2 Cultures and Faith
Volume N. 2 XXVII 2019 of the review of the Dicastery focuses on the perspectives of youth in contemporary culture.
Twenty young people invited by Cardinal Ravasi help the Dicastery by offering their reflections on a regular basis. Here we gather some of their thoughts on communication in the digital age, the ails faced by the youth including, drug addiction, peer pressure, violence, citizenship and ideals and so much more.
See the index and note the original languages.
You can read the editorial here.
Other sections of the review present the activities of the Courtyard of the Gentiles, the Department for Sport, Music and the Young, and other cultural activities.